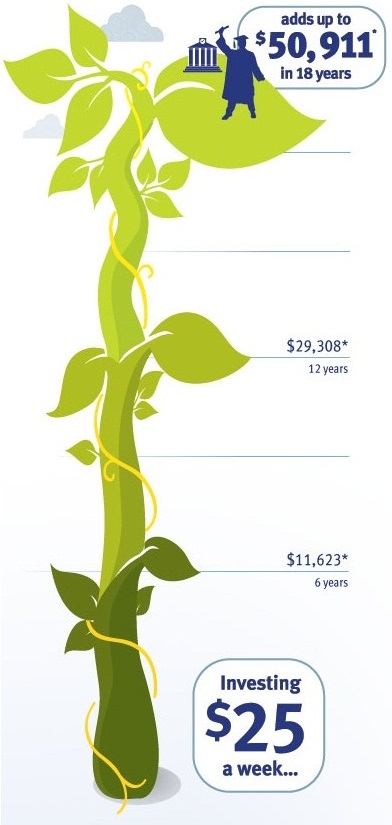 We all know that our children grow much to fast. You come home from the hospital with a tiny helpless newborn, blink and you have a toddler climbing the furniture. If you dare blink again they are at their first day of kindergarten, high school and then college.
Are you prepared for college, or have you prepared your newborn for college? I know how silly that sounds as you hold your tiny newborn.
The RBC RESP (Registered Education Savings Plan) allows you to start saving for your child's future. Let them attend college or university without the pile of debt that I know I graduated with, and am adding to.
You can don't have to put a lot in, whatever fits your budget. An example would be: $25 per week can grow to over $50,000 in 18 years!  You can also take the thought out of it and save automatically with RESP-matic.
Did you know that the Canadian Government will help you? By giving FREE money.
With the Canada Education Savings Grant you can receive $500 a year up to a total of $7,200 (the government will match 20% of the first $2,500 contributed each year for eligible children).
How amazing would it be to know that your child isn't starting his or her adult life in debt just for getting an education?
Make sure to learn more about saving for your child's education here and here.
Disclosure: I am part of the RBC RESP blogger program with Mom Central Canada. I receive compensation for my post, however, all opinions are my own. Photo source.